Welcome
28 FT One-Bedroom
32 FT One-Bedroom
Two Bedroom
Reservations
Park Info
About Us
Directions
Travel Guide
Niagara RV Rentals
P.O. Box 186
Queenston, Ontario
Canada, L0S 1L0
Toll Free Reservations
1-800-567-6383
1-905-262-4233
[email protected]


In and around the thunderous falls lies some of North America's most thrilling freshwater sport fishing.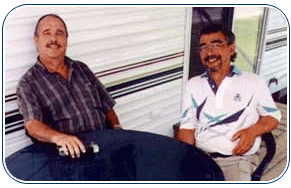 Niagara RV Rentals was established in 1983 by Fred Martin and Allan Wright. As avid travelers and campers themselves, the recreational vehicle / accommodation business was a very natural progression for them.
Over the years the company has grown from its humble beginnings into a very specialized service provider.
Originally supplying rental motorhomes and tent trailers to its customers, it soon became clear to Fred and Al that many of their clients simply wanted to take the family camping. Others, being disappointed by the usual close quarters of the Hotel / Motel style of accommodations, were looking for a less confining form of lodgings for their families while visiting Niagara and the surrounding area.
From this point on, the company's focus began to change from that of supplying mobile recreational vehicles, to its present day "On Site" Vacation Rental Accommodations.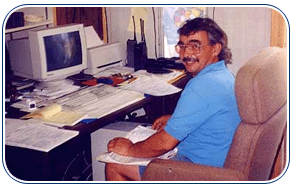 As the company continues to grow year after year, customer satisfaction continues to be of utmost importance.
Personal contact with the staff at Niagara RV Rentals is always there for you. Whether it is answering your questions about the area, helping you with directions or offering suggestions on itinerary.
All of this, combined with the great accommodations themselves, is here to help make your stay in Niagara a truly enjoyable experience. If you have any questions about your visit to Niagara Falls, and the accommodations that we offer, Please do not hesitate to contact us.
By filling in our Reservation Request Form as completely as possible, we will be able to E-mail you with current availability. Include any questions that you may have. This is the most effective way of contact, especially during October to April.
If you prefer to phone, (800-567-6383) our winter office hours are (approximately) 10 AM. to 2 PM. Monday to Friday.
If no one is available, please leave us a message and we will get back to you as soon as possible.
Summer office hours, April to September, 9 AM. to 5 PM. Daily.

We, at NIAGARA RV RENTALS, endeavor to provide superior service and value to the traveler visiting the Niagara Region.
Our goal is to provide clean, comfortable and affordable accommodations, with a family atmosphere that is not to be found with other styles of lodgings.